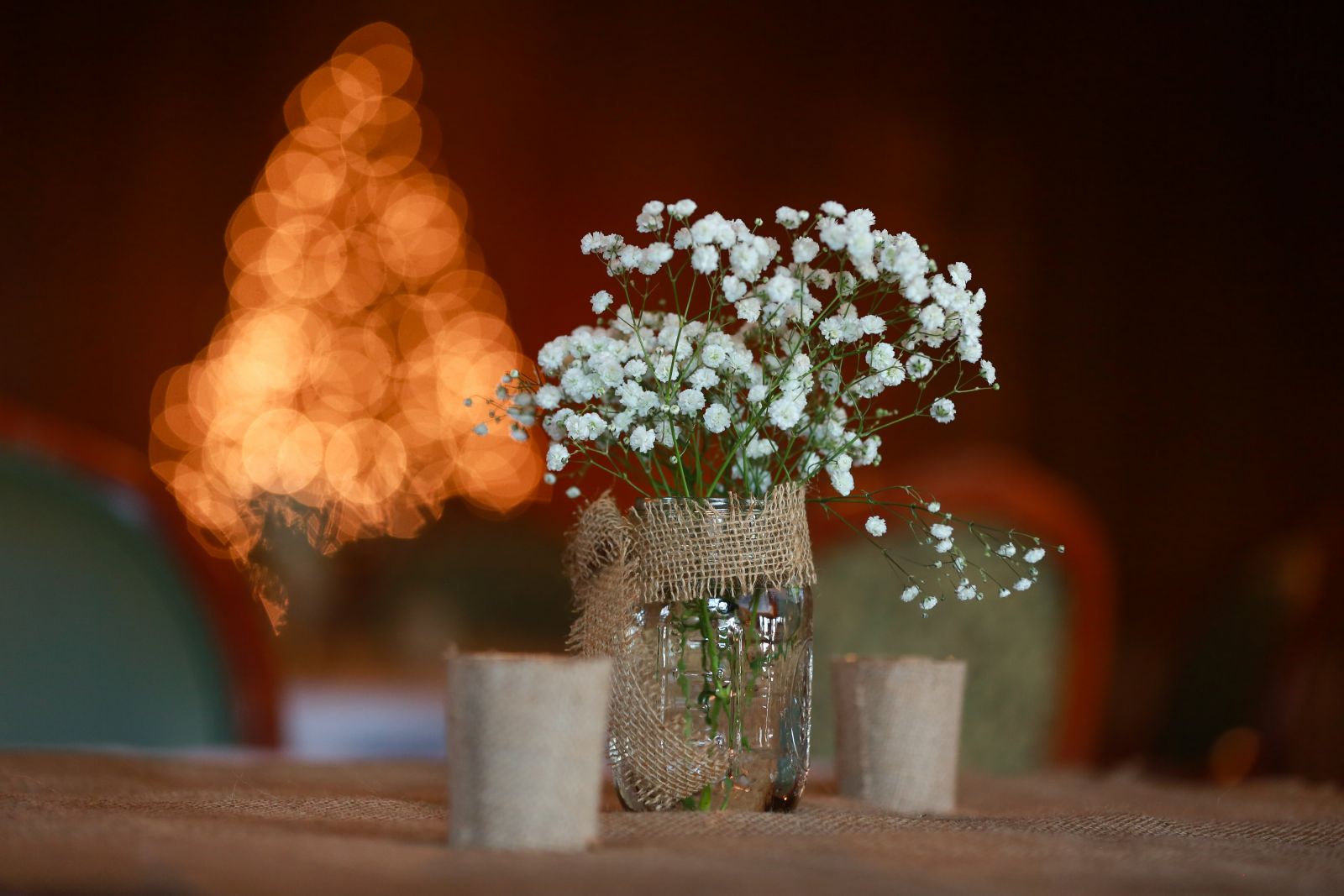 Wedding and reception expenses can add up fast, so when it's possible to do or make certain things that can save you money on wedding planning, it's wise to do so. One way to save a little money is to make some of your own reception decorations. If you can get your family and friends involved, this could turn one aspect of wedding planning into a fun event. Here are several ideas for DIY reception decorations, including some that are New Orleans-themed, that are perfect for a summer wedding.
Summer Centerpieces
Centerpieces at your reception will be some of the most memorable decorations, and they are some of the easiest to do yourself. Here are a few ideas to get you started.
Mason Jars. Mason jars are a classic addition to summer reception decorations perfect for both centerpieces and other table décor, and they especially hark back to New Orleans plantation life. They can be dolled up in a myriad of ways. Left as they are, they retain a rustic charm, but you can also dress them up by wrapping the tops in twine or ribbon or by filling them with flowers, other summery items, or even Mardi Gras beads or doubloons for a little New Orleans flavor.
Summery Touches. Flowers and stones or gemstones in summer colors are always a safe and elegant bet, but you can go further and fill your clear vases or mason jars with sand and shells, circular slices of lemons, limes, or grapefruits facing outward, or any other summery items you can think of that would fit your theme. You can even fill a vase or mason jar with water and add a few drops of food coloring that would fit your summer color scheme and add a single or a few white flowers for contrast—this idea is perfect for an elegant New Orleans courtyard setting.
Nontraditional Containers. Besides typical vases and the unique use of mason jars, other easy DIY summer reception decorations could be the rustic tin or coffee can with the label peeled off, which you can then decorate with a fleur de lis or two in any color to match your color scheme. You can also use customized Mardi Gras cups with your names and wedding date for your flower arrangements as well.
Summer Flowers
Instead of paying a ton of money to have a florist make all of your arrangements, you can buy the flowers in bulk and make your own for your centerpieces, bouquets, and other decorations. But which flowers should you choose for your DIY decorations?
~ Roses
~ Sunflowers
~ Daisies
~ Hibiscuses
~ Baby's breath
~ Tulips
~ Hydrangeas
When possible, bright and/or tropical colors for any of these flowers work best for summer wedding receptions. If you want to go all-out-New-Orleans themed, look for flowers in yellows, greens, and purples as well.
Summer Color Palettes
Colors are one of the most important aspects of reception décor. Summer offers a wealth of color options and combinations that can be elegant, fun, edgy, and effervescent in all the ways the season itself can be. Here are a few color combinations to consider using in your DIY wedding reception decorations.
Gray and Yellow. Gray, particularly a medium or light shade, is a perfect complement to a bright or light yellow palette. Add touches of navy blue to add an urban edge to an otherwise elegant design. These colors would work especially well for a French Quarter courtyard reception.
Yellow and Blue. In the summer sun, yellow and blue, particularly cornflower blue, sky blue, or even navy, are a fun, wistful combination that will remind you and your guests of a sunny field of sunflowers against a vibrant blue sky.
Tangerine, Lime, and Chocolate. This combination is certainly nontraditional, but if you're looking for a fun color palette your guests will remember long after the last dance, stand out with these three uniquely meant-for-each-other colors.
Tropical Colors. From your bouquet and centerpieces to other reception adornments, planning a summer wedding around tropical colors is a perfect way to liven up your big day with summer fun. Go for bright shades of hot pink, yellow, orange, magenta, purple, and electric blue.
These are just a few ideas for DIY summer wedding reception decorations that can help you save money while retaining the elegance of your big day—and the New Orleans theme should you include that as well. Try these out for yourself with the help of your family and friends and see just how fun and memorable the experience can be!
Say I Do In a New Orleans Courtyard.
What time of year is best for an outside wedding? Click here.