You know you want to get married in New Orleans. (Congratulations on your upcoming nuptials and your choice of locations!) Now the big question is where? Will it be in an intimate French Quarter courtyard? On the great lawn of a magnificent plantation? In the banquet room of a grand hotel or centuries-old restaurant? This is your big day. Make sure to do it your way. When choosing a venue for your wedding or reception, consider these pros and cons.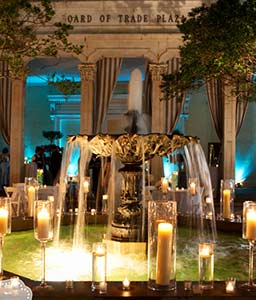 Pro: Courtyard weddings in New Orleans are a charming, intimate choice, and your photos before the fountains and around the pool will be enchanting. At night, courtyards can be lit as well – there's nothing quite as romantic.
Possible Con: If the weather takes a turn, you may be taking a risk with an outdoor wedding. However, many of our New Orleans venues, including romantic hotels with courtyards and fountains, have a backup plan ... ask them if they have tents available or covered areas you can move to just in case. Tip: book the balcony rooms overlooking the courtyard for your family and friends!
Check out courtyard wedding venues
Pro: Sweeping lawns. Grand staircases. High ceilings. Magnificent gardens. Nothing says "elegant, Old South wedding" like a plantation venue. You can get married like the a sugar baron's daughter right here in Louisiana. Plantation Venues often have private guestrooms available for guests or the bridal party.
Possible Con: Some plantations are located just outside the city of New Orleans. Since there may be some driving involved for your guests, consider renting a shuttle bus. The plantation or your wedding planner can arrange this for you or you can request transportation here.
Check out plantation wedding venues
Pros: Restaurant and hotel banquet rooms in New Orleans tend to be run by renowned chefs and experienced party planners who can make your big day go off without a hitch. These private rooms can accommodate small weddings or receptions for 300+ people. What's more, if you choose a hotel, you and your guests won't have to drive home and you'll have the perfect place for your bridal party to prepare.
Possible Con: Unless you can buy out the location, you won't have it to yourself – there may be other events down the hall.
Check out Banquet Room wedding venues
We're Here to Help.
If you have any questions, don't hesitate to ask. Just send us an email at concerge@weddingsionneworleans.com We're here to make your dream wedding come true!