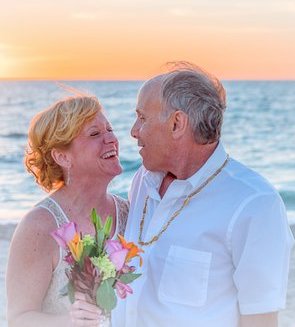 New Orleans is the perfect place to gather with cherished friends and family to celebrate your good fortune and have a good time. Whether you renew your I dos with a crawfish boil, at a Cajun dancehall, in an intimate French Quarter courtyard, or on a Mississippi riverboat, remember the team at NewOrleansWeddings.com is here to help. We've put togehter five helpful tips to keep costs down and stress at bay when renewing your wedding vows in New Orleans.
1. Make it about New Orleans
Make New Orleans your wedding theme. Play New Orleans music, have a second line, throw beads instead of bouquets, and give your guests masks and boas. Savor every moment–and our great food! Celebrate your big day with étouffée!
2. Make it about you
In the spirit of New Orleans, focus on keeping things stress-free yet meaningful and creative. Put your energy into personalizing the experience by choosing music that means something to you and writing your own vows. Don't worry about being witty or poetic—original, heartfelt and short but sweet is always better.
3. Skip the matching bridesmaid dresses
Unless you want to invite your original bridal party to stand up for you, there's really no need to have bridesmaids and groomsmen at a vow renewal. Keep your guests' costs– and the fuss–to a minimum. (Of course, if you have some cute grandchildren who would look adorable in matching outfits, go for it.)
4. Nix the officiate
Vow renewals are not legally binding so, unless you have a special relationship with a religious leader or want to get married by an Elvis impersonator, ask a friend or family member to repronounce you "husband and wife." Choose someone who knows you both well and is a good storyteller.
5. Make a "no gift" rule
Make sure everyone knows all you want them to bring to your renewal is themselves. You don't need gifts­–just them. Of course, that doesn't mean you shouldn't provide your guests with a souvenir or two of your renewal. Explore New Orleans Wedding Favors.