According to USA Today, if you get married during Christmas season "no one will come to your wedding"; however, this is not true if you get married in New Orleans!
If you have your heart set on a Christmas wedding, may we suggest you "I do" it in New Orleans? The weather is spectacular here in December and already-planned Christmas New Orleans Style events ensure that your guests will have plenty to keep them occupied while you run around like a couple of Santa's elves getting ready for the big day. Here are some fun ideas for your holiday nuptials in New Orleans.
Arrive by streetcar.
Come or leave the church or wedding venue in a streetcar, decorated for the holidays. It's festive, romantic and there's plenty of room for the whole wedding party.
Make your wedding feast a traditional Réveillon dinner.
Réveillon, French for "awakening," is a special Creole holiday meal that traces its roots back to the mid-1800s. Today the meal is celebrated nightly in restaurants throughout the city and the menu combines Creole cuisine and contemporary New Orleans food. Ask your caterer or the restaurant you're working with for more information and learn more here.
Dance to New Orleans holiday music at your reception.
Harry Connick, Jr.'s "When My Heart Finds Christmas." Kermit Ruffins' "Crazy Cool Christmas." Fats Domino's "I'll Be Home for Christmas." Louis Armstrong's "Zat You, Santa Claus?" Your wedding playlist will be as unique as your love. Learn more about New Orleans holiday music here.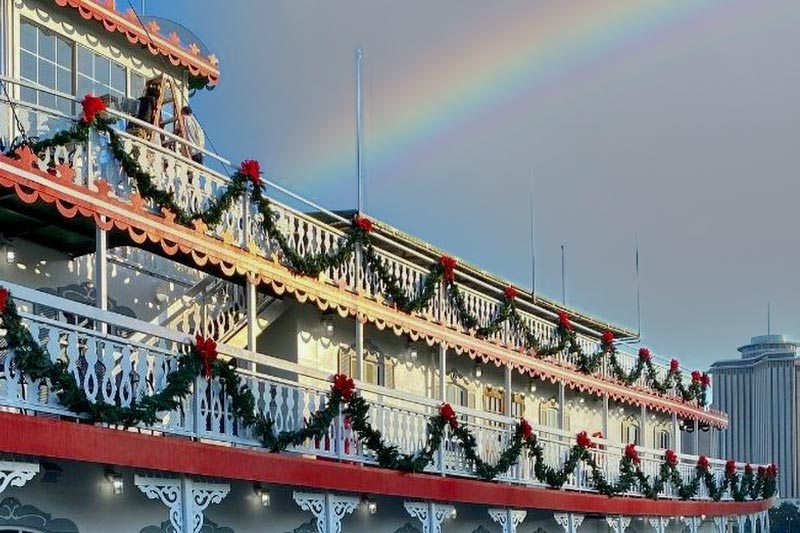 Have a post-wedding holiday jazz brunch on the Steamboat Natchez or the Riverboat City of New Orleans.
You went down the aisle with your old man – now go down Old Man River on a jazz brunch cruise. Learn about weddings and other events on this floating palace here.
Your family and friends will treasure memories of unique and heart-warming activities like Candlelight Caroling in Jackson Square, bonfires on the bayou, holiday concerts in St. Louis Cathedral and more. Read all about it.
Does a Christmas / Holiday wedding in New Orleans sound good to you?